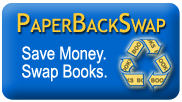 I recently discovered a fantastic website that I just have to share:
Paperback Swap
. This site allows you to list your books and send/receive books to/from others for nearly nothing. Basically, if a reader requests your book, you mail it to them (the site even gives you a book wrapper you can print out at home AND it calculates the postage for you) and you pay the postage, which is never more than $2.00 or so. When you request a book from someone, they pay the postage to send it to you.
You get three credits when you sign up. Each book you request "costs" one credit. You earn credits by sending out books to others. It's a way better deal than I've ever gotten even at discount book stores. I have three books on their way to me and I'll be sending out one tomorrow.
The site can be a bit difficult to figure out at first, but it only takes about 20 minutes to click around and get the hang of it. It's definitely worth it. If you love books, check it out!